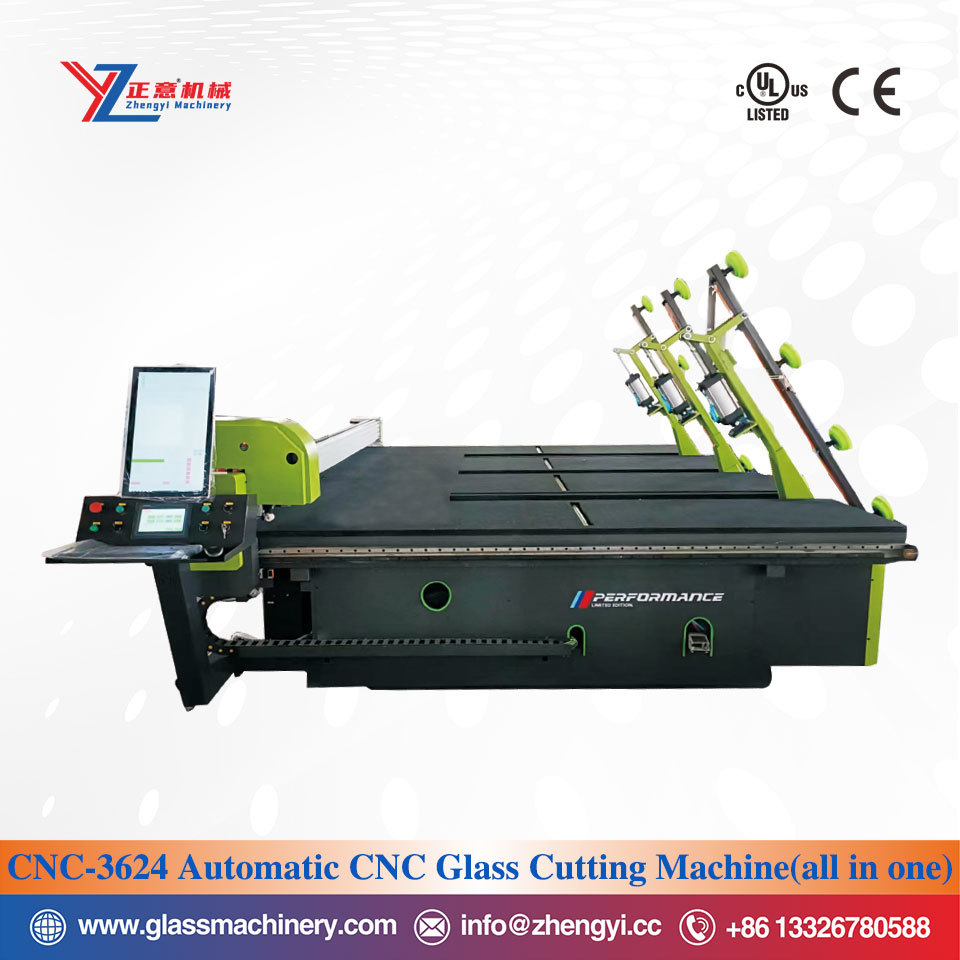 Automatic CNC Glass Cutting Machine(all in one)
CNC automatic loading and cutting machine is composed of automatic loading, automatic cutting and breakout table these three functions in one machine. The equipment occupies a small area, simple and safe operation, fast speed and high precision, saves labor, and can walk freely in the workshop. Cost-effective, set to take pieces, air flotation, breaking sheets, automatic left and right front and back walking movement, straight cutting and special-shaped cutting as one, the implementation of remote control operation, one machine instead of three machines, from loading to the cutting automatic control, it is an alternative to a single loading table , a single cutting table, a breakout table. It greatly reduces the labor intensity and safety risks of workers, has the advantages of convenient operation, small investment and high efficiency, greatly reduces the comprehensive cost of equipment use, and is the best choice for small and medium-sized glass enterprises. The machine adopts imported or domestic first-line brand electric, pneumatic components, which effectively guarantees the cutting accuracy and stability, and can meet the glass cutting of various shapes. High intelligent cutting table typesetting optimization software greatly improves the cutting rate, utilization rate and production cost of glass. Automatic oil injection function and automatic constant pressure adjustment function effectively ensure cutting stability and cutting effect. Scope of application: hollow, architectural glass, home decoration glass, craft glass, cabinet doors, crystal steel doors, puzzle mirrors and other specifications of glass cutting. Equipment performance: ◆Using the latest generation of control system, the equipment and computer linkage closed-loop, high-precision, high-speed cutting machine is truly realized. It has a series of latest functions such as automatic laser positioning, graphic scanning and more. ◆It adopts Italian glass automatic typesetting and glass shape automatic scanning, eliminating manual CAD measurement and drawing, and automatic optimization. ◆The use of Japanese servo and German grinding gear rack and pinion ensures the smooth performance of the machine, with high precision and long service life. ◆The knife wheel adopts the original high-hardness knife wheel imported from Germany, and the knife head is equipped with a protective device to prevent collision. ◆With internal air pump and inlet air source filter device, it ensures stable and effective high-speed cutting of the cutting assembly, and greatly reduces the failure rate. Main parameters: Glass thickness∶3~19mm Fastest loading cycle:30—40s Maximum suction sheet depth:700mm Maximum loading weight:900KG Working table height:800±50mm. Number of single-side loading arm: 3 arms. Suction cup of single arm:4 pieces.  Loading arm: single side Loading station: single station Voltage:380V/50HZ(can follow customer's requirement to order) Power:10KW Compressed air:0.6Mpa Vacuum pressure: -70~90Kpa (adjustable according to glass thickness) CNC-2520 overall size :2700*2700*850mm Table height: 800mm  Weight:1800KG/set CNC-3624 overall size:3000*4000*1400mm Table height :800mm  Weight:2800KG/set  
---
CNC glass cutting machine
CNC automatic loading and cutting machine
---
---
Product Details
Regular model:
CNC-2520 maximum cutting size: 2500*2000mm
CNC-3624 maximum loading size: 3660*2400mm
---
Mechanical introduction
CNC automatic loading and cutting machine is composed of automatic loading, automatic cutting and breakout table these three functions in one machine. The equipment occupies a small area, simple and safe operation, fast speed and high precision, saves labor, and can walk freely in the workshop. Cost-effective, set to take pieces, air flotation, breaking sheets, automatic left and right front and back walking movement, straight cutting and special-shaped cutting as one, the implementation of remote control operation, one machine instead of three machines, from loading to the cutting automatic control, it is an alternative to a single loading table , a single cutting table, a breakout table. It greatly reduces the labor intensity and safety risks of workers, has the advantages of convenient operation, small investment and high efficiency, greatly reduces the comprehensive cost of equipment use, and is the best choice for small and medium-sized glass enterprises.
The glass cutting machine adopts imported or domestic first-line brand electric, pneumatic components, which effectively guarantees the cutting accuracy and stability, and can meet the glass cutting of various shapes. High intelligent cutting table typesetting optimization software greatly improves the cutting rate, utilization rate and production cost of glass. Automatic oil injection function and automatic constant pressure adjustment function effectively ensure cutting stability and cutting effect.
Scope of application: hollow, architectural glass, home decoration glass, craft glass, cabinet doors, crystal steel doors, puzzle mirrors and other specifications of glass cutting.
---
Equipment performance:
◆Using the latest generation of control system, the equipment and computer linkage closed-loop, high-precision, high-speed cutting machine is truly realized. It has a series of latest functions such as automatic laser positioning, graphic scanning and more.
◆It adopts Italian glass automatic typesetting and glass shape automatic scanning, eliminating manual CAD measurement and drawing, and automatic optimization.
◆The use of Japanese servo and German grinding gear rack and pinion ensures the smooth performance of the machine, with high precision and long service life.
◆The knife wheel adopts the original high-hardness knife wheel imported from Germany, and the knife head is equipped with a protective device to prevent collision.
◆With internal air pump and inlet air source filter device, it ensures stable and effective high-speed cutting of the cutting assembly, and greatly reduces the failure rate.
---
Main parameters:
Glass thickness∶3~19mm
Fastest loading cycle:30—40s
Maximum suction sheet depth:700mm
Maximum loading weight:900KG
Working table height:800±50mm.
Number of single-side loading arm: 3 arms.
Suction cup of single arm:4 pieces. Loading arm: single side
Loading station: single station
Voltage:380V/50HZ(can follow customer's requirement to order)
Power:10KW
Compressed air:0.6Mpa
Vacuum pressure: -70~90Kpa (adjustable according to glass thickness)
CNC-2520 overall size :2700*2700*850mm Table height: 800mm Weight:1800KG/set
CNC-3624 overall size:3000*4000*1400mm Table height :800mm Weight:2800KG/set
---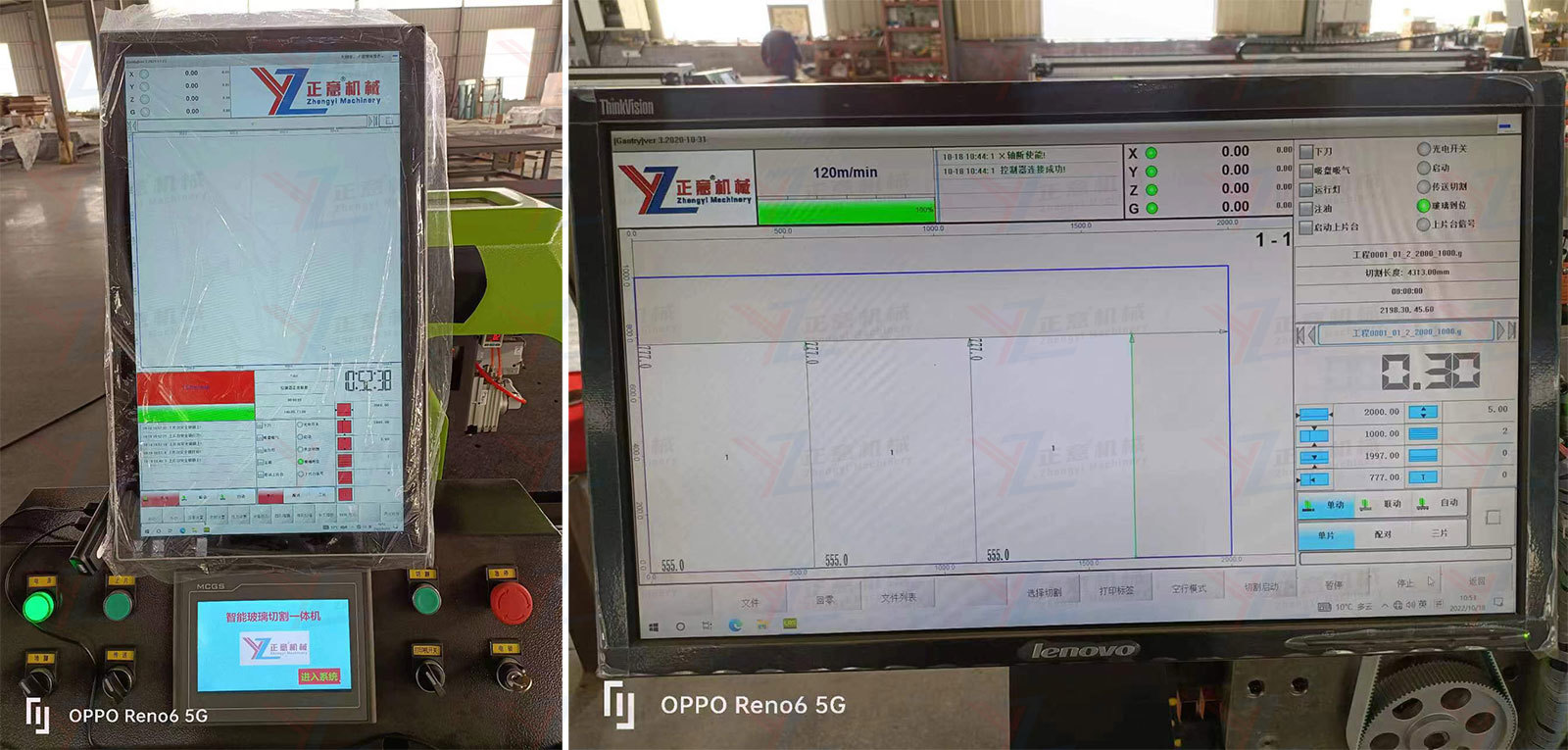 ---
---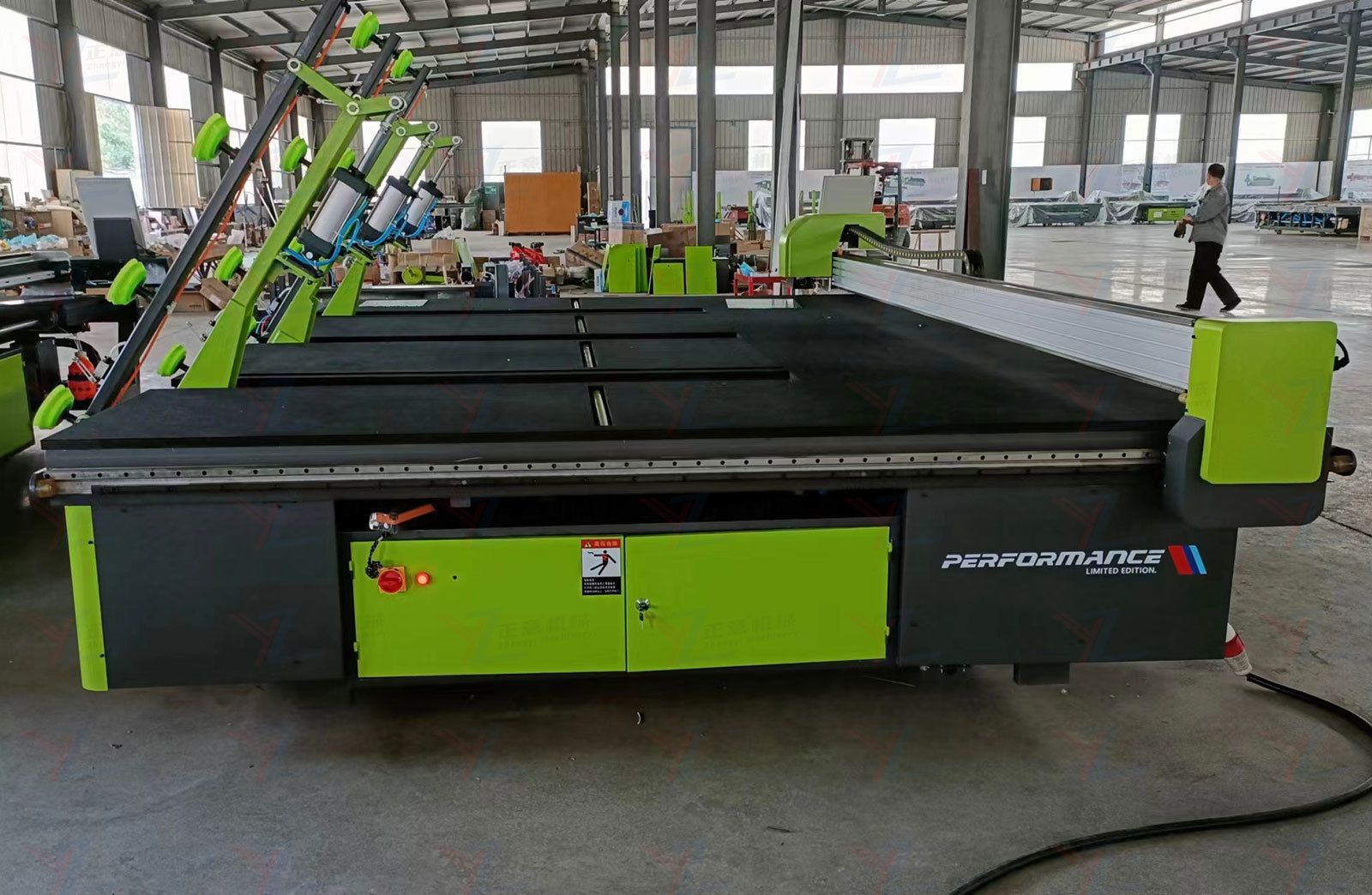 ---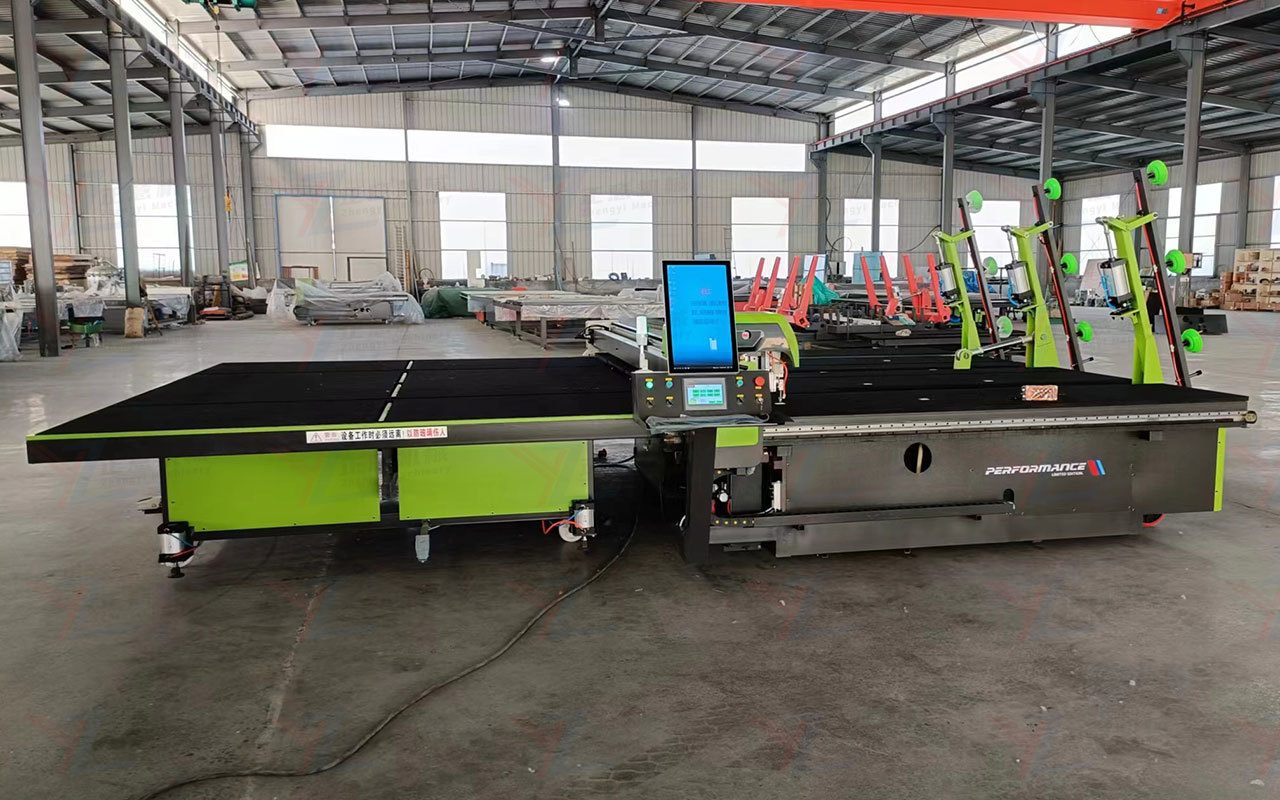 ---