Glass Loading Table (manual cutting table)
Multi-function glass manual cutting table ZSPQ3725 is a very suitable glass loading, cutting, air flotation, breaking plate all-in-one machine, the equipment can rotate 360 degrees, remote control walking can move freely, and loading glass can be automatically aligned, which solves the problem of uneven ground equipment mistracking. The automatic loading is frequency conversion on the chip is safe and reliable, built-in high-power air compressor, no need to attach air paths; The cylinder arm is controlled by the imported real air conditioning pressure switch, and the glass can be directly placed on the table after loading, which is more safe and reliable without moving equipment, and the air volume of the air flotation counter can be adjusted arbitrarily according to the thickness of the glass. Flexibility: The equipment is designed with mobile devices; It can be moved anywhere in the workshop, solving the traditional problem of glass finding equipment, but moving the equipment directly to any glass shelf for the next sheet operation. Safety: Through the wireless remote control operation device to operate the equipment, effectively avoid the possible cause of personal injury and property damage, the equipment itself is also designed with a perfect electrical protection device, so that the use of the equipment becomes very simple and safe. Economical: The traditional manual cutting table requires at least 4 people to work in a team, and the use of this equipment to complete loading and cutting work only needs one person, saving labor costs. At the same time, because workers operate by remote control, there is no need to get close contact with the glass, safety risk in this link is completely eliminated, the equipment is flexible in use, can adapt to different sizes of glass, and one device has the function of multiple devices. Main technical parameters: Machine overall size:3600mm*2080mm*800mm Max glass size:2440mm*3660mm Min glass size:1000×1500mm Glass thickness:3-19mm Suck glass depth:600mm Single glass pick-up cycle:≤40s Total power:5.5KW Weight:1.5T  
---
Multi-function glass manual cutting table
---
---
Product Details
Mechanical introduction:
Multi-function manual glass cutting table ZSPQ3725 is a very suitable glass loading, cutting, air flotation, breaking plate all-in-one machine, the equipment can rotate 360 degrees, remote control walking can move freely, and loading glass can be automatically aligned, which solves the problem of uneven ground equipment mistracking. The automatic loading is frequency conversion on the chip is safe and reliable, built-in high-power air compressor, no need to attach air paths; The cylinder arm is controlled by the imported real air conditioning pressure switch, and the glass can be directly placed on the table after loading, which is more safe and reliable without moving equipment, and the air volume of the air flotation counter can be adjusted arbitrarily according to the thickness of the glass.

Flexibility: The equipment is designed with mobile devices; It can be moved anywhere in the workshop, solving the traditional problem of glass finding equipment, but moving the equipment directly to any glass shelf for the next sheet operation.

Safety: Through the wireless remote control operation device to operate the equipment, effectively avoid the possible cause of personal injury and property damage, the equipment itself is also designed with a perfect electrical protection device, so that the use of the equipment becomes very simple and safe.

Economical: The traditional manual cutting table requires at least 4 people to work in a team, and the use of this equipment to complete loading and cutting work only needs one person, saving labor costs. At the same time, because workers operate by remote control, there is no need to get close contact with the glass, safety risk in this link is completely eliminated, the equipment is flexible in use, can adapt to different sizes of glass, and one device has the function of multiple devices.
---
Main technical parameters:
Machine overall size:3600mm*2080mm*800mm
Max glass size:2440mm*3660mm
Min glass size:1000×1500mm
Glass thickness:3-19mm
Suck glass depth:600mm
Single glass pick-up cycle:≤40s
Total power:5.5KW
Weight:1.5T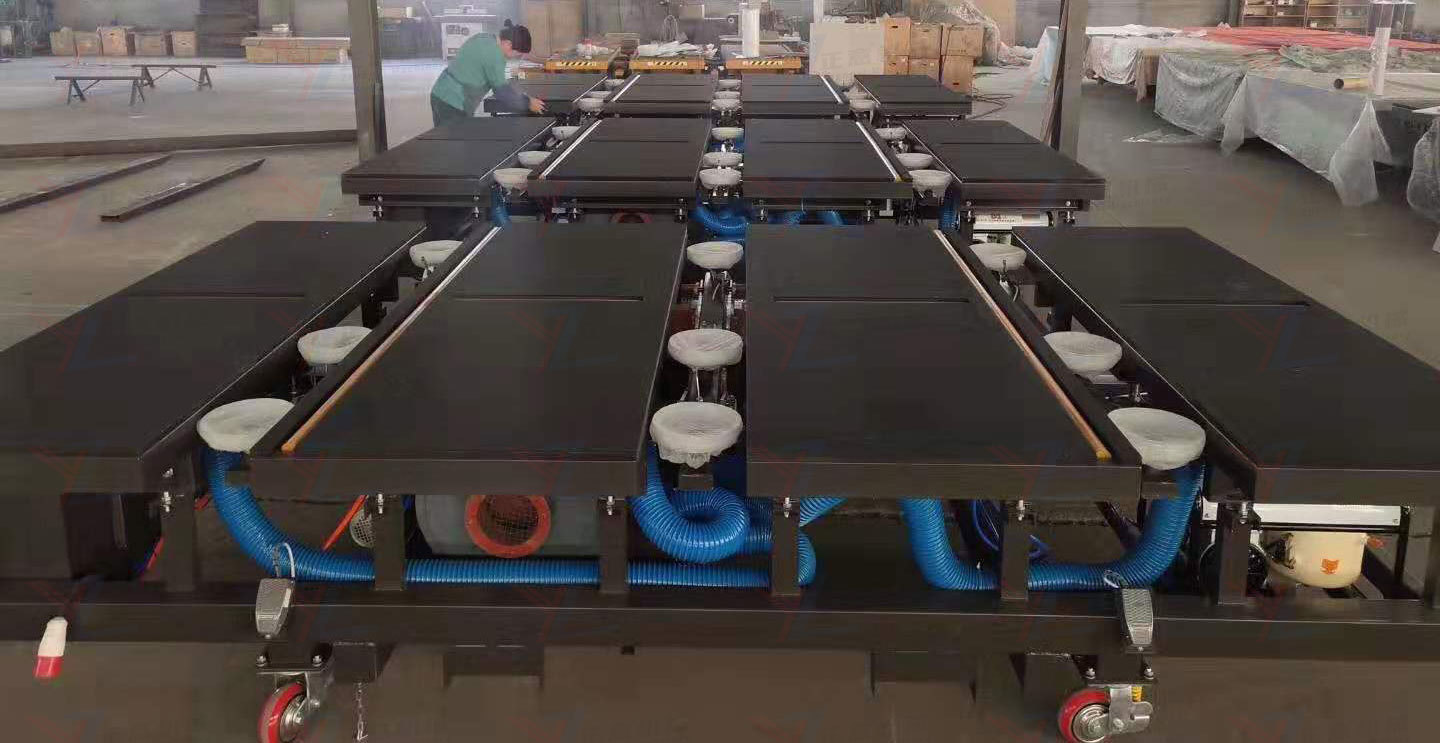 ---