Invitation Letter for the 32nd China International Glass Industry Technology Exhibition
---
Zhengyi Glass Machinery invites you to attend the 32nd China Glass Exhibition,our booth N4-221, welcome new and old friends to visit and guide.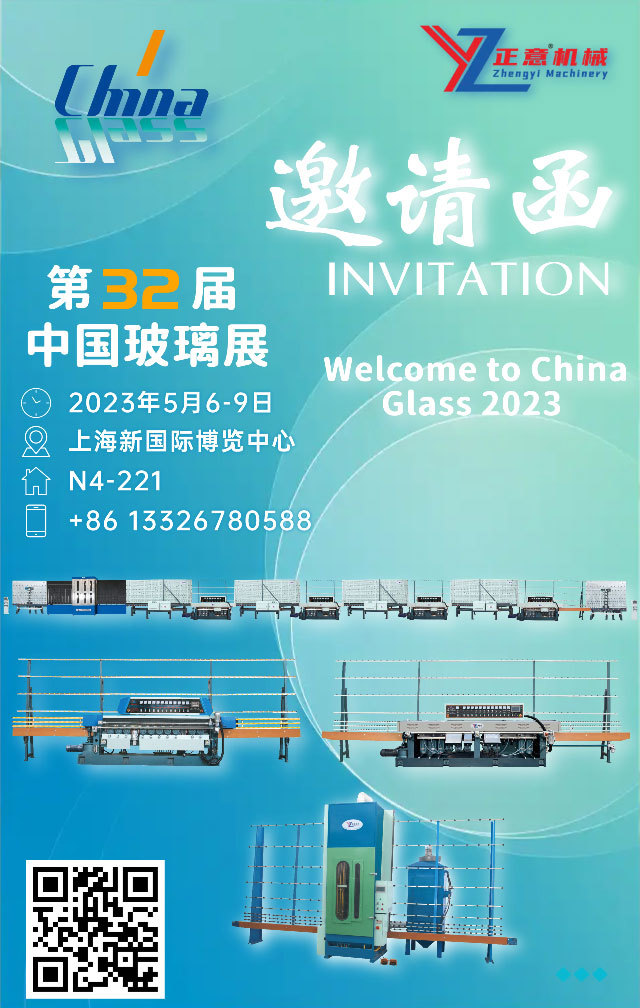 China International Glass Industrial Technical Exhibition (China Glass), which was hosted by the Chinese Ceramic Society and organized by Beijing China Silicon Exhibition Co., Ltd., the 32nd China International Glass Industry Technology Exhibition will be held from 6 to 9 May 2023 at the Shanghai New International Expo Center. China Glass Exhibition is the only professional exhibition in the glass industry that is supported by authoritative industry organizations at home and abroad, integrates hosting and undertaking, and has completely independent intellectual property rights. Since its establishment in 1986, China Glass Exhibition has always been rooted in the industry, developed together with the industry, and has been fearless of various twists and turns for more than 30 years, forging ahead, and promoting China's transformation and upgrading from a glass producing country to a manufacturing power with exhibition services. China Glass Exhibition has become the preferred platform for the exchange and display of the whole industry chain of the domestic glass industry.
China Glass Exhibition covers the whole industrial chain of glass industry, including: glass production technology and equipment, glass deep processing technology and equipment, glass products and applications, refractory materials, raw materials, main and auxiliary materials and a variety of tools, accessories and auxiliary equipment, inspection and testing technology, software and related equipment. As one of the world's two major professional glass exhibitions, China Glass Expo adheres to the exhibition concept of "specialization, internationalization and scale", and is committed to providing a platform for economic and trade exchanges between domestic and foreign manufacturers.
This exhibition will use the Shanghai New International Expo Center N1 to N5 hall, W4 hall, W5 hall a total of 7 exhibition halls, the exhibition scale of nearly 90,000 square meters. Among them, N1 pavilion is the international exhibition area, N2 pavilion is the glass production exhibition area, N3 pavilion is the toughening furnace and refractory materials exhibition area, N4, N5, W5 pavilion is the deep processing equipment exhibition area, W4 pavilion is the raw materials, main and auxiliary materials, daily use glass and art glass exhibition area. More than 800 manufacturers from 24 countries and regions, including the United States, Germany, Italy, Britain, France and Japan, have confirmed to participate in the exhibition. The German national delegation organized by the German Federal Ministry of Economy and Energy and the Federation of German Machinery and Equipment Manufacturers, An Italian national delegation organized by the Italian Foreign Trade Council and the Italian Association of Glass Working Machinery and Accessory Manufacturers will be present at the exhibition. It will attract nearly 40,000 glass industry professionals to participate in the event.
As the most prominent professional exhibition in China's glass industry, China Glass Fair has always been adhering to the concept of "specialization, internationalization and scale", providing a new platform for new products and technologies in the industry with exhibition services, focusing on the intelligent, digital, green and low-carbon transformation of the industry, leading the quality and efficiency reform of the glass industry. Help the glass industry to achieve green, safe and high-quality development.